Seattle and University Coin Clubs Merge
The former Seattle Coin Club and the University Coin Club elected to merge in January 2003 to form the Seattle Numismatic Society (SNS). Both clubs had a final meeting and holiday party in December 2002 before the merger.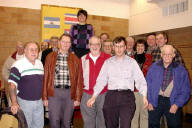 Members and guests present at the inaugural meeting of the Seattle Numismatic Society on Thursday, January 16, 2003. (Click on photo to enlarge.)
The Seattle Coin Club was founded in 1936, and the University Coin Club was founded in 1960. Although the UCC met near the University of Washington, it was not affiliated with the university.
The club continued to use the SNS name until the end of 2022, but has now returned to calling itself the Seattle Coin Club.
The club is a member of the American Numismatic Association, with the Seattle club's old membership number, C-5592.
See the SCC/SNS bylaws. | See previous SCC/SNS news headlines.