Note: The club was named the Seattle Numismatic Society (SNS) from 2003 to 2022.
The University Coin Club and the Seattle Numismatic Society held summer picnics for many years. This activity has now been largely replaced by the annual banquet, or is held in conjunction with another club as noted below, or may be held as a private members-only event.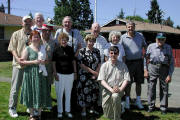 Members and guests present at the annual Seattle Numismatic Society picnic at Del Cushing's house on Saturday, July 31, 2004. (Click on photo to enlarge.)
The picnic was cancelled in 2005, but was held again in 2006 and 2007. Beginning in 2008 for several years, the picnic was held at the Tukwila Community Center in conjunction with the now-disbanded King County Coin Club, however the picnic may also be held as an SCC members-only event.